Drill Support
Personalised Drill Support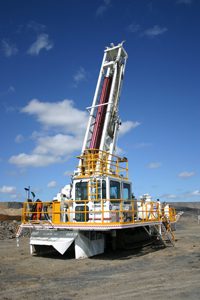 Our drill support program aims to provide our drilling partners with an elite service solution specifically tailored to suit their machines & individual site requirements. These solutions are available for all major brands of drilling equipment including Cat, Terex, Bucyrus, Reedrill, Atlas Copco & Sandvik.
Services provided are outlined here, however should you have a requirement that is not listed, please do not hesitate to contact our support team to discuss.
Machine Diagnostics, Fault Trouble Shooting & Failure Anaysis
Hydraulic, pneumatic, mechanical & electric systems: high level diagnostics & testing
Unmatched understanding of Reedrill / Terex / Bucyrus / Cat Rotary (Rotary & DHH) & top Hammer machines, Cubex machines, including newly released CANBUS based automation ready systems, & the Australian built Vigilante PLC systems.
Exposure to many other types of drilling equipment
Hydraulic
Component supply
Filtration audit & analysis
Repair / Rebuild of components
Systems analysis & troubleshooting
Testing: workshop or onsite
Service exchange of popular units
Machine Auditing & Assessment
Partnering with production, maintenance & planning personnel. Building a full understanding of site requirements.
Detailed Machine auditing

In preparation for service and/or shut down- assisting / partnering with site planning team to ensure maximumefficiency of any service planning.
Fault and defect identification
Failure analysis
Maximization of component life and maximized machine availability
Operational effectiveness – machine and consumables
Bit life, penetration, machine wear and consumable life
Compressor performance
Weight on bit
Consumable size and configuration
Machine utilization auditing

Working with suppliers to optimize balance between consumable life and performance aligned with capabilities of machine and customer production targets.
Service & Major Overhaul Planning & Implementation
Based on in-depth audit of machine; services, overhauls and component rebuilds can be planned in detail.
Partnering with service teams to ensure accurate plan & parts requirements are detailed for all requisite tasks:

Shut down projects
Project planning, project management
Sourcing of parts & Resources
Completed shut down re-commissioning, Hydraulic, Pneumatic, Electrical & Mechanical systems
Machine modification – Safety, productivity or other specific site requirements
Design and planning of Modification
Documentation to complete change of management for any modification
Modifications carried out

Re-commissioning equipment after service
Risk Assessments Including Control Design, Implementation & Documentation
Risk assessment of new and existing fleet, including new modifications or changes to suit safety or production. Assessed against requirements tailored to meet customers specific standards and application.
Controls for risks designed and implemented, including documentation to ensure continued support of any physical changes.
Review of new capital specifications and supplier conformance
Assistance with development of Safe Work Method Statements & work rocedures in accordance with site requirements
Parts Sourcing & Component Supply
Quality components for your drill
Hydratorque product improvements and kits
Finding alternative parts for items that are no longer available, subject to long lead times, or are extremely overpriced.