Parker Hannifin P2 Pump
High Pressure/High Speed Hydraulic Piston Pump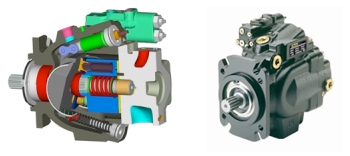 The variable displacement hydraulic piston pumps from Parker Hannifin, designated "P2", are intended for mobile applications, featuring a very compact design, low noise level and low pressure ripple.
Stable and quick to respond to system demands in many different types of mobile machinery, the P2 hydraulic piston pump is designed for cost effective installation within the limited space available on modern mobile machines.
View the technical data for the Parker Hannifin P2 Pump below.

Technical Data
Frame Size
P2060
P2075
P2105
P2145
Max displacement cm3/rev
(cu in/rev)
60
3.66
75
4.58
105
6.41
145
8.85
Self-priming speed at 1 bar/14.5 psi abs. inlet pressure (rpm)
2800
2500
2300
2200
Max continuous pressure bar
psi
320
4600
Peak pressure bar
psi
370
5365
Minimum inlet pressure bar
0.08
abs at max speed (in Hg vacuum)
5.8
Maximum inlet pressure bar
psi
10
145
Maximum Case Drain Pressure bar
continuous psi
0.5
7.75
Noise level at full flow, 1800 rpm, and 250 bar
(3600 psi) (dbA)
74
76
78
80
Weight with load sense control kg
lbs
37
81
44
97
63
139
78
172
Mass moment of inertia kg m2 (about axis of shaft)
0.0061
0.0101
0.0168
0.0241