Hydraulic Services
With a fully equipped and modern Brisbane Hydraulic Service Centre, Hydratorque provides quality testing and repair for a wide range of hydraulic equipment. Our service team of fully qualified and experienced technicians undertake continuous in-house and industry training to stay at the forefront of their field. Established as a dependable and responsive support partner, our Service Centre is fully equipped with purpose built facilities including:
Variable Drive Test Bench
Cylinder Repair Bench with High Torque and Long Stroke Capacity
In House Machining
With all works completed to meet the highest standards, we take pride in our customer's satisfaction. Supported by our comprehensive service program, our Service Centre specialises in the repair and servicing of all hydraulic components including:
Piston Pumps and Motors
Cylinders
Power Units
Accumulators
Valves
Piston Pump & Motor Repair
At Hydratorque we have built a reputation as a reliable source for the repair of Piston Pumps and Motors. All repairs are carried out complying with stringent quality control procedures and, where possible, to manufacturer's tolerances. With extensive knowledge and experience in the repair of piston pumps and motors, our technicians are able to provide full inspection and root cause analysis reports as required. Our partnership with the worlds leading manufacturer's provides access to genuine parts as preferred in all repairs. Comprehensive testing ensures the reliability and longevity of all our repaired units in the field.
Onsite Diagnosis & Support
Our experienced onsite technicians are able to extensively support all hydraulic systems from start to finish and are backed by in house technical assistance for problem solving and analysis. Our approved business partners are supported by 24/7 field service, quick response times to emergency breakdowns, and for our remote customers, phone and email assistance is available. With fully equipped service vehicles, hydraulic specialists and technical support, we provide complete solutions from diagnosis and repair through to installation.
Installation & Commissioning
In conjunction with our system design team, we provide the following services to transition your project from the design stage to full operation.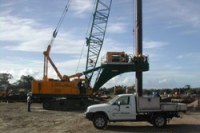 Installation and commissioning of hydraulic components and complete systems
Full turnkey installation of projects
Engineering and technical support during installation and commissioning process
Commissioning procedure in consultation with customers
Maintenance Programs
Please consult us should you wish to discuss a how we can customise a maintenance program for you.
Service Exchange Programs
We offer service exchange programs for qualifying customers. Please contact us to discuss how we can make service exhange work for you.