Parker Compact Spiral Hose
The Next Evolution In Hydraulic Hose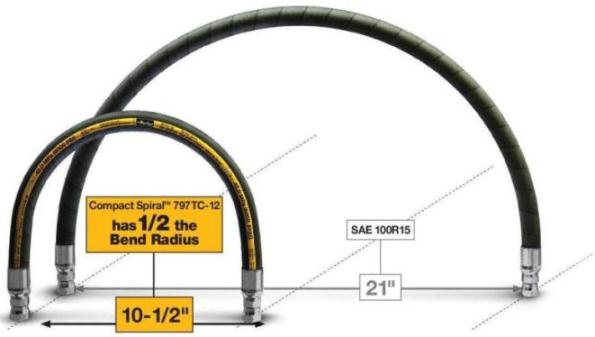 Parker Hannfin's Compact Sprial Hose Range addresses the markets top spiral hose application factors:
Pressure rating
Routing ease
Abrasion resistance
Bend radius
Weight
Compared with conventional spiral hose, Parker's Compact Sprial 797TC / 797TC Hose offers measurably greater advantages in routing and installation, product size and weight, inventory savings and much more.
A world first, this development is the most significant advancement in hydraulic hose since the introduction of Parker's No-Skive technology more than 25 years ago.
The Compact Spiral Hose is unprecedented with 5000- and 6000-psi hose performance in a compact design. Developed in concurrence with the industry trend toward high-pressure hose manufactured to ISO specifications. Not only is it 1/2 the bend radius but it takes 1/3 less effort to bend.
Its many innovative and proprietary features set new standards in value and delivery hose characteristics deemed most important by OEM and aftermarket customers.