Denison Hydraulics
Parker Hannifin GOLD CUP®
Hydrostatic Piston Pumps and Motors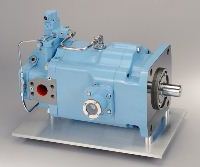 Parker Hannifin, the genuine manufacturer of Denison Hydraulics, is a global leading brand providing highly engineered hydraulic fluid power systems and hydraulic components. As a Premier Parker Distributor we supply and support a full range Denison Hydraulics including Denison Hydraulic Piston Pumps and Motors and other Denison Hydraulic Equipment and Components. The Parker Denison Gold Cup Hydrostatic Transmission pumps are variable displacement piston pumps of an unparalleled rugged design. Rated to 500 PSI continuous pressure and continuous duty, the Gold Cup design has the unique feature of an internal servo/replenish and the ability to utilize system over pressure to directly control the stoking chambers.
This affords the fastest and most stable control strategy available. The controls are completely modular in design and can be configured to meet most any system requirements with standard factory options. All internal wear surfaces are hydrostatically balanced and/or hydraulically linked allowing for a long and serviceable life. The Gold Cup pump also has the ability to run in may open loop applications and also has digital (Flow/Pressure) capability for the most difficult of control requirements.
The Denison Hydraulics Gold Cup Series has been designed to operate in a wide range of industries needing closed-lop control, high pressure, high power density such as Blast Hole Drill Rigs, Shredding, Cranes, Mining, Hydraulic Test Stands, Pulp and Paper, Military, Marine, and Power Generation.

Technical Data
Series
Terms
P6
P7
P11
P14
P24
P30
Max
displacement
in3/rev
cm3/rev
6.00
98,3
7.25
118,8
11.00
180,3
14.00
229,5
24.60
403,2
30.6
501,5
Pressure
continuous
psi
bar
5000
350
5000
350
5000
350
5000
350
50001)
3501)
50001)
3501)
Pressure
intermittent
psi
bar
60007)
4207)
60007)
4207)
60007)
4207)
60007)
4207)
55001)7)
3701)7)
 55001)7)
3701)7)
 Speed (stroke)
pump@full
motor@full
motor@50%
rpm
rpm
rpm
3000
3000
3600
3000
3000
3600
2400
2400
2800
2400
2400
2800

21002)
21002)
21002)

1800
1800
1800

Mounting
flange 2bolt
flange 4bolt
shaft keyed
keyed
shaft splined
splined
SAE
SAE
SAE
SAE
SAE
SAE
127-2(C)
152-4(D)
32-1(C)
44-1(D)
32-4(C)
44-4(D)
127-2(C)
152-4(D)
32-1(C)
44-1(D)
32-4(C)
44-4(D)
–
154-4(E)
44-1(E)
–
44-4(E)
–
–
154-4(E)
44-1(E)
–
44-4(E)
–
–
177-4(F)
50-1(F)
–
50-4(F)
–
–
177-4(F)
50-1(F)
–
50-4(F)
–
Weight (Pump)
less controls
lbs
kg
175-300
80-135
175-300
80-135
325-530
145-240
325-530
145-240
750-835
340-375
750-835
340-375
Weight
(Motor Fixed)
lbs
kg
110
50
110
50
250
110
250
110
510
230
600
270
Weight
(Motor Variable)
less controls
lbs
kg
110
50
110
50
300
135
300
153
650
290
 670
300
Torque (Motor)
theo max
per 100 psi
per 100 bar
at 5000 psi
at 350 bar

lbs-in
Nm
lbs0in
Nm

95.5
157
4774
539,5

115.4
189
5769
651,9

175
287
8750
990

222
362
11100
1250

392
623
19576
2158

487
797
24351
2752

Power (Motor) theo max
at 5000 psi, 350 bar
per 100 rpm

at 2000 rpm

hp
kW

hp
kW

7.6
5,7

151.5
113,0

9.2
6,8

183.1
136,6

13.8
10,3

277.8
207,0

17.6
13,1

353.5
263,7

31.1
23,1

261.3
463,5

38.6
28,8

695
518,2

Torque (Motor)
efficiency approx
stalled running
% theo
% theo
81
93
81
93
81
91
81
91
81
93
 81
93
Case pressure
max allow
continuous
psi
bar
75
5,2
75
5,2
75
5,2
75
5,2
75
5,2
 75
5,2
Case pressure
max allow
intermittent
psi
bar
125
8,6
125
8,6
125
8,6
125
8,6
125
8,6
125
8,6