Product Spotlight: Parker Hannifin Racor Filtration
Racor Turbine Series with Metal Bowl Passes Fire Resistance Test
Parker Racor receives product design assessment certification on the Marine Turbine series fuel filter water separator with metal bowl from the American Bureau of Shipping (ABS) after passing fire resistance test (ISO 19921) at an independent test laboratory. PDA Certification 01-HS175924-5-PDA/LTD, which is valid until April 2016, allows the installation of the part number's listed below on or in ABS classed vessels, MODU and facilities.
Products Covered: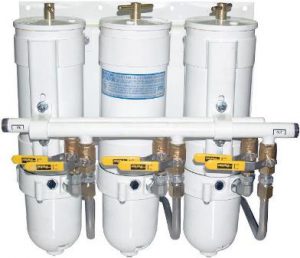 500MAM
900MAM
1000MAM
75500MAXM
75900MAXM
731000MAM
751000MAVM
751000MAXM
771000MAM
791000MAVM
Convert 900/1000MA Series to 1000MAM Configuration:
RK 11734 (beige/no probe port)
RK 11734-01 (beige/1/2"probe port)
RK 11734-03 (white/1/2" probe port)
Convert 500MA Series to 500MAM Configuration:
RK 15301 (beige/no probe port)
RK 15301-01 (beige/1/2" probe port)
RK 15301-02 (white/1/2" probe port)
Racor metal bowl kits come ready to retrofit your existing Turbine MA filters, bowl kits include new gaskets and plugs. Customers ordering new Turbine MA series filter assemblies have an option of ordering metal bowls installed (900MAM10).
Models that include an aluminium bowl or stainless steel shield meet ASTM FS1201, Veritas, Det Norske Veritas, ISO 10088, and USCG accepted. For severe service, all-metal bowls should be specified. Paired with our famous and genuine Aquabloc® filters, the Racor Turbine Series is still the preferred brand for serious sailors globally.
When engines demand heavy-duty, high-capacity water separation and fuel filtration, the Turbine Series is the most complete, efficient, and reliable engine protection you can install. Symbolizing Racor's continuing commitment to the science of filtration, the Turbine Series has established its position as the filter/separator often imitated, but never equalled.
Contact us and find out how RacorTM Turbine Series can work for your application or click here to view the product specifications.